New Acquisitions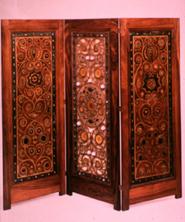 Tri-fold Screen, ca. 1881-1882,
by Louis Comfort Tiffany & Associated Artists
(c. 2000 Virginia Museum of Fine Arts)


The Shrine of Svayambhunath and Other Sacred Sites of te Kathmandu Valley,
dated 1565, is an opaque watercolor on cloth.
(c. 2000 Virginia Museum of Fine Arts)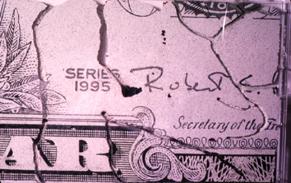 Yukinori Yanagi, Dollar Pyramid (detail)
(Photo by Denise Lewis. c. 2000 Virginia Museum of Fine Arts)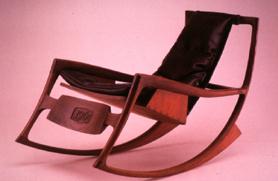 Wendell Castel, rocker, 1963.
leather and walnut.
(c. 2000 Virginia Museum of Fine Arts)
---
AMERICAN FURNITURE, AFRICAN SCULPTURES, INDIAN TEXTILE AMONG ITEMS ACQUIRED BY VIRGINIA MUSEUM OF FINE ARTS
Chinese Chariot Fittings, David Reed Painting, Sèvres Vase
And Sally Mann Photographs also Added to Collection
Two pieces of American furniture, three Mrican sculptures, two Chinese chariot fittings, and an Indian textile have been acquired by the Virginia Museum of Fine Arts.
Also among acquisitions approved by the museum's board of trustees are a David Reed painting, a monumental Sèvres vase, a Charles Hinman painting, and two photographs by Virginia artist Sally Mann.
"We are grateful that private art purchase endowments and gifts of art provided by patrons of the museum make it possible for the state's art museum to develop collections of the highest quality, says Richard B. Woodward, interim director of the Virginia Museum of Fine Arts.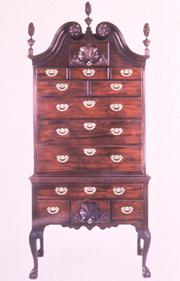 This bonnet -top high chest
of drawers was made in Philadelphia about 1745-50.
It stands 7 feet 11 inches tall.
"The art collections form the heart of the museum's resources, and the works that have just been purchased and donated add significantly to these holdings."
The two pieces of furniture purchased by the museum are an octagonal tilt-top table made by Charles Koones (American, 1791-1857) in Alexandria, Va., in about 1830, and a monumental bonnet-top high chest of drawers made in Philadelphia about 1745-1750.
The octagonal table was crafted in carved-and-veneered mahogany and exotic woods and has stenciled-gilt decoration and original brass casters. It stands 29 1/2 inches high and measures 44 inches in diameter. "This well documented piece of Southern American furniture in the classical style of the early 19th century is as imposing and beautifully crafted as anything coming out of Boston, New York or Philadelphia," says Dr. David Park Curry, curator of American arts for the museum.
The chest of drawers is made of carved-and-figured mahogany with original brass pulls and stands 7 feet 11 inches tall. Formerly owned by automobile magnate Henry Ford, the piece is notable for its "sculptural power," Curry says.
"The chest offers an authoritative statement of early rococo aesthetics in Philadelphia," he says.
"Our acquisition of this imposing chest will allow our visitors to explore complex issues in American art and culture while enjoying a superior piece of 18th-century cabinetry."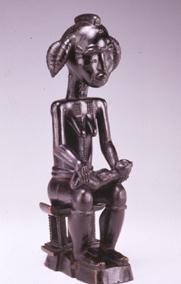 This seated mother and child figure
is from the Anyi culture (Ivory Coast)
and dates from the late 19th or early
20th century. (Photo by Katherine
Wetzel, © 2000 Virginia Museum of
Fine Arts)
The three African sculptures are a 19-inch woodenfigure of a seated mother cradling a child on her lap from the Anyi subgroup of the Akan culture (Ivory Coast and Ghana); a 23 1/2 - inch standing female figure made of wood, glass, beads, string and cloth from the Suku Holo culture (Democratic Republic of the Congo and Angola); and a 20-inch nkisi, or power figure, made of wood, mirror, iron, cloth, shells, raffia, string and resin from the Kongo culture, Vili region, Majumbe village (Gabon).
The first two date from the late- 19th or early-2Oth century and the latter is of 19th-century origin.
Woodward, who is also the museum's curator of African art, says all of these works are recognized for their quality and importance. These three sculptures present a great opportunity for the museum to make major additions to our African collection," he says.
The two Chinese chariot fittings -- one in the shape of a feline head made of bronze with silver inlay and the other in the shape of a dragon made of gold inset with brass beads date from the Eastern Zhou period in about the 4th or 3rd century B.C. The former, about 2 inches long, was a gift to the museum from The Fabergé Society of the Virginia Museum of Fine Arts, and the latter, about 3 inches long, was purchased by the museum.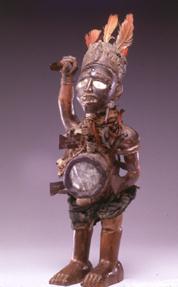 This nkisi; or power figure, is from
the Kongo culture and dates from
the 19th century. (Photo by
Katherine WetzeI, © 2000 Virginia
Museum of Fine Arts)
Also given by The Fabergé Society was a gilt-bronze Tang dynasty mirror from about the 8th century. It measures nearly 5 inches in diameter. A second Chinese purchase by the museum is a Eastern Zhou period garment-hook made of bronze with silver inlay. It measures about 2 inches long and originated in the 4th or 3rd century B.C.
The Indian textile purchased by the museum, a talismanic shirt from about the 15th or early-16th century, is inscribed with the entire text of the Qur'an, Islam's holy book, and was designed to protect the wearer from illness, enemies and evil, according to Dr. Joseph M. Dye III, the museum's E. Rhodes and Leona B. Carpenter curator of South Asian and Islamic art. Such tunics were often worn into battle by Muslim soldiers.

Measuring 38 1/2 by 25 inches, the stiffened-cotton shirt is decorated in ink, gold and colors. "This shirt is not only an efficacious textile, it is also a compelling work of Indo-Islamic art," Dye says.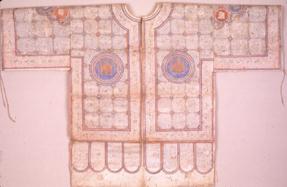 The entire text of the Quran is inscribed on this Indian
talismanic shirt dating from the 15th or early-i 6th
century. (Photo by Katherine Wetzel, © 2000 Virginia
Museum of Fine Arts)
.
It is one of the few such shirts that survive today and is only equaled, but not exceeded, by a closely related shirt recently purchased by the Metropolitan Museum of Art, Dye says.
Among other items approved for acquisition by the museum's board of trustees were:
- An oil-and-alkyd painting, completed in 1999, titled "#341" by American artist David Reed (b. 1946). Reed is one of the foremost contemporary abstract painters, according to John Ravenal, the museum's curator of art after 1900. A purchase by the museum, the painting continues Reed's use of the horizontal format. It measures 36 by 144 inches.
- An 1854 Sèvres hard-paste porcelain vase designed by Jules Pierre Diéterle (French, 1811-1889). Standing 39 1/2 inches tall, the vase purchased by the museum is from the Royal Chateau of Fontainebleau and is one of a number of grandly scaled porcelains made for display at the Paris Universal Exposition of 1855. Kathleen Schrader, the museum's associate curator of European sculpture,
decorative arts and prints, calls it "an exceptionally rare piece of Sèvres porcelain, one of only three in its form and with its distinctive blue floral decoration."
- Vertical Four," 1976, an acrylic-on-shaped-canvas painting by American artist Charles Hinman (b.1932). The artist gave the work to the museum in memory of
Sydney Lewis, a long-time museum trustee and benefactor who died last year. Measunng 49 by 44 by 6 inches, the painting is one of the artist's "all-white" pieces based on the paintings of early 20th-century Russian Suprematist artist Kasimir Malevich.

- Two untitled photographs purchased by the museum from the "Deep South" series by Sally Mann (b. 1951). Each of the gelatin-silver prints, toned with tea, measures 37 1/4 by 47 inches and are number 2 from an edition of 10. The "Deep South" series, made in Louisiana and Mississippi, continues Mann's themes introduced in the "Mother Land" series, which focused on rural sections of Virginia and Georgia. Mann was born in Lexington, Va.
Among additional gifts to the museum approved by the trustees were:
Six household objects by American designer Michael Graves (b. 1934) for the Dayton Hudson Corporation, given by Target Stores.
A Faberge pillbox made of rock crystal, gold, diamonds and ruby by Russian workmaster Erik August Kollin (b. Finland, 1836-1901), given by Dr. and Mrs. Henry S. Spencer of Mechanicsville, Va.
A late- 19th- or early-20th-century Tibetan opaque watercolor on cloth, given by Raj K. and Marion M. Jolly of Newport News, Va. It depicts a Tibetan Buddhist spiritual leader, probably Padmasambhava.
And three works by Richmond native Nell Blaine (1922-1996) given by contemporary art collectors Norman and Sarah Stone of San Francisco. "Fiesta Bouquet," 1971, and 'Pasture I," 1972, are oil paintings on canvas, and "Low Tide, Smith Cove," 1971, is a watercolor on paper.