FIERY STEEDS
FRENCH ROMANTIC STUDIES BY CARLE VERNET FROM THE RITZENBERG COLLECTION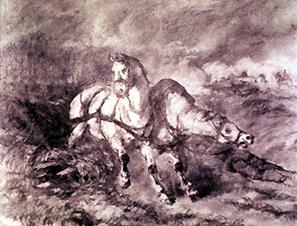 Two Harnessed Horses in a Storm, graphite and stump, with highlights takenout, on paper
gift of Mr. and Mrs. Milton Ritzenberg
Photo Denise Lewis. © Virginia Museum of Fine Arts

Carle Vernet (1758-1836) was a member of a prolific family of artists. His father, Joseph Vernet (1714-1789), was best known as a painter of seascapes and landscapes. His son, Antoine-Charles-Joseph, known as Carle, began his
career as an academic history painter, but he -abandoned this side of his art while in Rome as a recipient of the Prix de Rome. On his return to Paris he developed a realistic style of observation that often bordered on caricature. Vernet produced satires on the fashionable men and women about town and their exaggerated costumes but simultaneously initiated a realistic style of battle scenes that featured panoramic views with very small figures and sprightly horses. He painted hunting and racing scenes peopled in a similar fashion and published large numbers of engravings and lithographs of such scenes.
Mr. and Mrs. Milton Ritzenberg of Berryville, Virginia have given the Virginia Museum of Fine Arts 82 rapid sketches of similar subjects in pencil, chalk, and pen and ink. Taken from an album probably gathered together in the artist's studio, they include studies of farm horses, military horses, cab horses, riderless horses and horses in every condition. Some of the drawings complement a group of 11 highly finished compositions in the Virginia Museum's Mellon Collection that are also included in the exhibition.
DISCOVER SILVER !

THE JEROME AND RITA GANS COLLECTION OF ENGLISH SILVER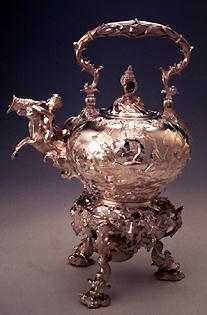 Teakette, Stand and Lamp, 1749, by English artist James Shruder
© 1998 Virginia Museum of Fine Arts
In 1997, Rita Gans gave the museum a remarkable collection of 18th- and 19th-century English silver that she and her ]ate husband, Jerome, collected over a number of years. Since then, Mrs. Gans' vision and generosity have made possible a new hands-on gallery devoted to an exploration of the history and properties of silver. Visitors to the 'Discover Silver!" gallery will be able to delve into the processes of mining silver; explore step by step the process of making an exquisite silver coffee pot; consider the taste, social aspirations, and etiquette that made silver an essential component of gracious dining in the 18th and 19th centuries; make their own rubbings after silver designs; handle actual pieces of silver, silver plate and pewter and figure out which is which; and follow the leads contained in an activity-filled Family Gallery Guide. Many visitors have admired the exquisite designs and extraordinary craftsmanship of the Gans collection of English silver. "Discover Silver!" will illuminate the stories behind the objects and bring the collection to life.