Vanitas
Meditations on life and Death In Contemporary Art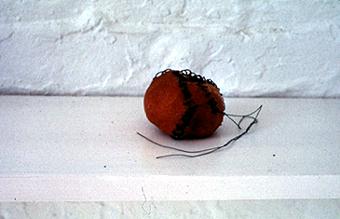 "Srange Fruit (for David)" (detail), 1992 - 1997
by Zoe Leonard. Fruit peel (orange),
thread, needle. Variable dimensions. Photo: Vivien Bittencourt
Combining tradition with the cutting edge, this exhibition features an international selection of work by contemporary artists whose efforts explore an age-old theme. The word "vanitas" describes the appreciation of life's pleasures joined with the knowledge of their inevitable loss. It has long been the inspiration for some of Western culture's most
significant works of art and literature, especially 17th-century Dutch still lifes with their abundant flowers, overripe fruits, snuffed candles, skulls and timepieces. As the end of the millennium approaches, this venerable theme continues to serve contemporary artists in their contemplation and expression of the tension between life and death. The exhibition will introduce some of the most significant contemporary artists working today, none of whom has shown before in the area. Focusing on sculpture and installation art, the exhibition features works that use unconventional forms, materials and processes. Zoe Leonard will make a new installation of sewn fruit for the exhibition. These pieces, which grew out of a meditation on the death of a friend, feature peels that she carefully sews together after removing the
fruit. They evoke the human body as a fragile container and suggest both loss and repair. Mexican artist Gabriel Orozco uses a human skull covered with a harlequin pattern to evoke both memento mori images and computer technology. Japanese artist Yukinori Yanagi will also make a new installation for the exhibition. His "One Dollar Bill" will present an enlarged and fragmented image of the U.S. dollar made out of colored sand placed inside thin Plexiglas boxes. Over the course of the exhibition, a colony of live ants will tunnel through the image, transforming its symbolism of wealth and power. The exhibition also includes works by Miroslaw Balka, Christian Boltanski, Leonardo Drew, Tony Feher, Robert Gober, Felix Gonzalez-Torres, Mona Hatoum, Jim Hodges, Anish Kapoor, Jac Leirner and Rachel Whiteread.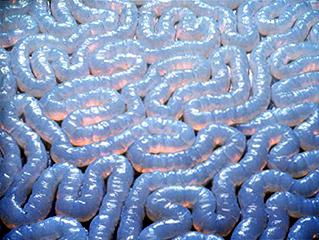 "Entrails Carpet" (detail), 1997
by Mona Hatoum. Silicone rubber. Dim: 2-1/2' x 129' x 78'.
Collection of Marion Swingle, Pennsylvania