GRAND RE-OPENING OF LEWIS GALLERIES OF LATE 20TH-CENTURY ART
After a year's hiatus during "Splendors of Ancient Egypt," the Lewis Galleries of Late 20th-Century Art will reopen to the public in the first major reinstallation of these galleries since 1993. The newly conceived installation will present a fresh perspective on the collection for museum visitors, emphasizing the development of late 20th-century art. Important works not displayed since the 1980s will be seen again in the company of established favorites from the museum 5 holdings of painting and sculpture from around 1945 to the present. Building upon the magnificent foundation of works given by the Lewises, the installation will unveil major acquisitions made in the last year, including a wall drawing by eminent American artist Sol LeWitt.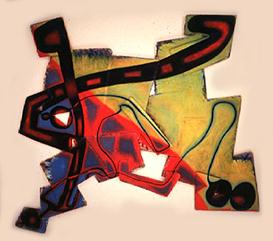 "Summer Wind", 1997
Elizabeth Murray. Oil on canvas on wood
Dim: 120'x107'x3-1/2'. Photo : Ellen Page Wilson
LeWitt's multi-part work will be painted directly onto the walls at the entrance to the Lewis Galleries, making a colorful and monumental entrance to the galleries. A special exhibition titled "Vanitas: Meditations on Life and Death in Contemporary Art" (described below) will open simultaneously with the reinstalled galleries. Together, these events signal a major moment for late 20th-century art at the Virginia Museum of Fine Arts and present an occasion to honor Frances Lewis and her late husband, Sydney, on the 15th anniversary of the opening of the West Wing.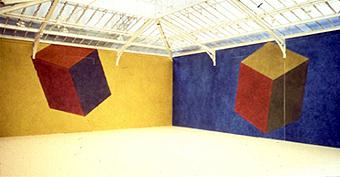 "Wall Drawing #541" (detail)
Sol Lewitt. Color ink wash Dimension variable.
first installed Galerie Yvon Lambert, 1987. Photo: Jacques Hoepffner