Private Fictions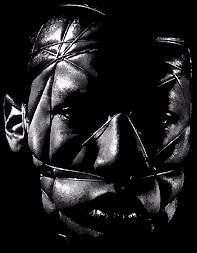 Henry Lewis, Autoretrat, 1980
Coinciding with the ninth edition of Barcelona's annual Prima vera fotogàfica, the Joan Miro foundation is presenting an exhibition of around one hundred photographs from the Musee National d'Art Moderne, Centre Georges Pompidou, Paris.
The framework of this exhibition, arranged in five thematic sections1 is the idea that the taking of a photograph is in itself a specific discourse. In this respect, a photograph is not so much an instrument of realism as a technical process at the service of the imagination. Portraits, Narrative the Body, Still-lifes and Landscapes are the five main themes of these Private fictions, which allow the viewer to reflect on one particular aspect of photography: the fictitious or equivocal discourse inherent in very photographic image, whether produced for artistic, documentary or advertising purposes.
Private fictions offers, through the five classical genres, a selection of some of the subjective fictions created by different artists. Thus, the gesture and facial expressions of the portraits by Dieter Appelt, Bernard Guillot and Henry Lewis become the very matter of the image itself. In the narrative section, the works of Doisneau, for example, suggest a fiction in time and space that extends beyond the photograph. The masked or concealed body in the works of artists such as Bellocq or Bettina Rheims are equally imaginary. And Cindy Sherman's stereotypes, emulating characters and scenes from Hollywood films, represent what is in itself a representation.
Still-life is one of the preferred themes for photographic fictions, for it is here that reality can most easily be transformed into fantasy, illusion or private manipulation, such as those by Claude Cahun and Bernard Faucon. But even in the landscape section, the photographs by Christian Boltanski or the monumental images of Hotaro Koyama manage to reconstruct an unreal universe.