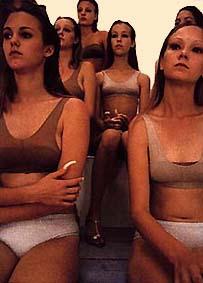 Vanessa Beecroft, Performance(détail),
© Galleria Massino De Carlo, Milan
Photo Armin Linke


The participating artists include:


Eija-Liisa Ahtila (FIN),

Vanessa Beecroft (I),

Willie Doherty (N-IRL),

Douglas Gordon (SC),

Aernout Mik (NL),

Tony Oursler (USA),

Sam Samore (USA),

Georgina Starr (GB)

and Gillian Wearing (GB).


At the opening there will be a performance by Vanessa Beecroft.

The exhibition is accompanied by a catalogue.

From December 7 to February 9 ,1997 / du 7 décembre au 9 février 1997

Information number for the public : +31(0)40-2755275.