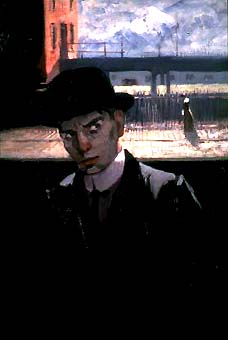 Self Portrait, 1912
Oil on Canvas, 81,3 x 66 cm.
Stuart Davis Estate (Lascito).
Courtesy of Salander-O'Reilly Galleries, New York.


Paintings have been loaned from the artist's Estate, from the Israel Museum, Jerusalem, from the Thyssen-Bornemisza Museum, Madrid, from numerous United States museums including the Addison Gallery of American Art, the Boston Museum of Fine Arts, the Brooklyn Museum, the Chrysler Museum of Art, the Cleveland Musellm of Art, the Hirshhorn Museum and Sculpture Garden, the Johnson Museum of Cornell University, the MemorialArtGallery, Rochester, the Menil Collection, the Metropolitan Museum of Art, the Museum of Modern Art, New York, the National Museum of American Art, Washington DC, the Philadelphia Museum of Art, the Rose Art Museum of Brandeis University, the Solomon R. Guggenheim Museum, the Sunrise Museums, Charleston VA, the Whitney Museum of American Art, and from several private collections.



The exhibition catalog, in English and Italian langllage editions, is published by Electa (Milan), and includes essays by authoritative scholars of Davis's life and art (Diane Kelder, Lewis Kachur, Wayne Roosa and Karen Wilkin), "the jazz of Stuart Davis"by music critic Ben Sidran, 'Davis and Europe' by Rudy Fuchs, 'Davis and the Biennale' by Federica Pirani, an interview with Piero Dorazio and a selection of writings by Davis himself.