The Met comes to Brisbane

30 May – 20 September 2009

World exclusive exhibition 'American Impressionism and Realism:

A Landmark Exhibition from the Met'

The view from elsewhere: Small acts

until 15 November 2009


Australian Cinémathèque & Gallery of Modern Art Floating Life: Contemporary Aboriginal Fiber Art until 18 October 2009
Gallery of Modern Art Frame by Frame: Asia Pacific Artists on Tour until January 2010
Regional Queensland travelling exhibition




Out of the Shadows:




German Expressionism and Beyond





Until 30 November 2008





Retrospective season of German film in an expressionist vein from the silent period onwards.

Andy Warhol

8 December 2007 – 30 March 2008






Making it Modern:
The Watercolours of Kenneth Macqueen

10 November 2007 – 5 May 2008





Protest: Australian Political Posters 1972-92





28 July 2007 – 24 February 2008

Xstrata Coal Emerging
Indigenous Art Award

4 August – 11 November 2007


Katharina Grosse

15 July– 28 October

British Prints: Pop to the '90s

30 June 2007 – January 2008

Margaret Preston
Art and Life

18 February ­ 1 May 2006


Grace Cossington Smith
A Retrospective Exhibition

18 February ­ 1 May 2006



Exposure:
Australian Photography from the 1930s to the 1950s

Until 2 July 2006


Education Minister's Awards for Excellence in Art

16 March ­ 28 May 2006



Barbara Heath
Jeweller to the Lost

15 October 2005 ­ 26 March 2006
Clifford Possum Tjapaltjarri
7 August ­ 24 October 2004

Video Hits: Art and Music Video
Until 14 June 2004
This exhibition brings together works by music video directors and visual artists, focusing on the dialogue between art and music video.



Island Beats
Until 14 June 2004

Colour Country
Until 9 May 2004


Conceptualism in Brisbane
Until 9 May 2004


William Robinson - Pastels
Until 28 March 2004

Man Ray
8 May ­ 18 July 2004


Lost and Found - Kid's Exhibition
Until 26 January 2004


Conceptualism in Brisbane
Collection Display
Until 7 March 2004

Dadang Christanto
"For those who have been killed"
Collection Display
Until 22 February 2004


William Robinson - Pastels
Collection Display
Until 22 February 2004


Pop: The Continuing Influence of Popular Culture on Contemporary Art Touring Exhibition

Until 5 September 2004


Asia-PacificTriennial of
Contemporary Art 2002

12 September 2002 - 27 January 2003
Pushing Painting: Australian Painting from the 1970s to the Present
until 16 June 2002

Lines of Descent: The Family
in Contemporary Asian Art
28 November 2001 - 28 January 2002

'Dragon or Rainbow Serpent: a myth
glorified or feared'
by Cai Guo Qiang
31 August 2001 - 3 February 2002
Pop is ... and Young Britsh Artists
10 November 2001 - 17 February 2002
Fancy work: Women's arts in the Federation period
30 June - November 2001

Renoir to Picasso: Masterpieces from the Musée de l'Orangerie, Paris
March 29 ­ May 20, 2001 / 29 mars - 20 mai 2001
A Centenary of Faces: Celebrating the Centenary of Federation
March 29 ­ June 3, 2001 / 29 mars - 3 juin 2001

Personal Eugenics: an installation by John Tonkin
March 29 ­ June 3, 2001 / 29 mars - 3 juin 2001

The Minister's Awards for Excellence in Art 2001
February 16 ­ May 13, 2001 / 16 février - 13 mai 2001

FLUXUS!
February 17 - June 2001 / 17 février - juin 2001

urban Dingo: The Art of Lin Onus 1948-1996
November 24, 2000 - March 4, 2001 / 24 novembre - 4 mars 2001
Figuring Landscape
August 19 - Novembrer 26, 2000 / 19 août - 26 novembre 2000
Earth, Spirit, Fire: Korean masterpieces of the Chosôn dynasty
June 16 - August 20, 2000 / 16 juin - 20 août 2000
September 8, 2000 - January 28, 2001 / 8 septembre 2000 - 28 septembre 2001
(Powerhouse Museum, Sydney)



showcase the quality and diversity
of artists from Asia and the Pacific
September 9, 1999 - January 26, 2000 / 9 septembre 1999 - 26 janvier 2000
The theme for the Third Asia-Pacific Triennial is "Beyond the Future". It is regarded as a pivot around which ideas can revolve. The theme was developed after extensive discussion with curators involved in the selections and those curators have interpreted and approached the theme in the context of the specific circumstances of the art with which they have engaged in the region.
The theme also reflects our hope that the Asia-Pacific Triennial may provide a context to allow us to address issues in art beyond immediate economic meltdown and political tension. The Asia-Pacific Triennial has always been more than an art exhibition: it has among its aims inter-cultural understanding and in particular increasing knowledge within our own society of the cultures of the Asia-Pacific region through contemporary art.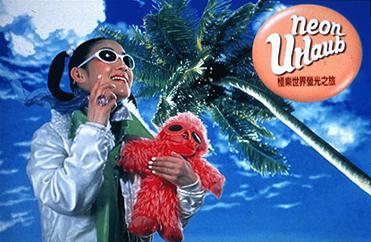 Wang Jun-Jieh - Neon Urlab 1997 Internet Site & Installation
"Beyond the Future" is a logical development from the focus of the First Asia-Pacific Triennial on "Tradition and Change" and of the Second on "Present Encounters". The theme of the Third Asia-Pacific Triennial is paradoxical: in many ways a return in full circle to the issues raised in the First Asia-Pacific Triennial of the place of tradition and the past in contemporary art and society. For indigenous peoples in particular, it is important to note that their past is their future: as Jonathon Mane-Wheoki has cogently observed for Maori, -"The future is behind us, the past is in front of us". The Third Asia-Pacific Triennial includes a strong emphasis on artists whose work crosses many boundaries between craft, tradition and contemporary art. The theme also takes account of the concern of many artists in the region today about positively contributing through their creativity to their communities' surviving the present and constructing new futures.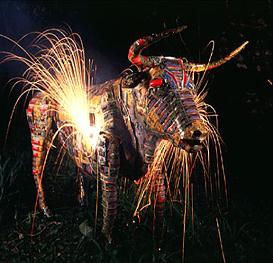 Michel Tuffery and Patrice Kaikilokefe
Pisupo Lua Afe 2000 Mk 111 (Corned Beef 2000 Mk 111) 1996
Collection : Centre Culturel Tjibaou, Noumea, New caledonia
This will not be an exhibition about artists envisaging their future in any simplistic globalised or positivist and linear Western sense: multiple futures have been elements of our approach to the theme.
The Third Asia-Pacific Triennial does include an emphasis on new media and new components, such as Crossing borders which consists of artists whose work reflects the globally mobile nature of today's world, as well as art crossing boundaries through collaborative works, interdisciplinary approaches such as between art and music, popular culture, screen culture and new technology. The Virtual Triennial will be an innovation of the Third Asia-Pacific Triennial, as will a special exhibition for children - the Kids' Asia-Pacific Triennial.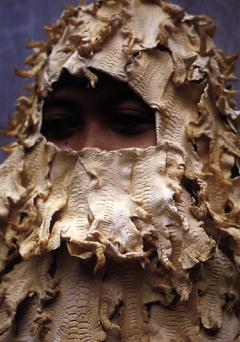 Mella Jaarsma - Hi inlander (Hello native) 1998-99
Installation comprising treated skins
(fish, chiken, frog, kangaroo), cooking equipment, photographs
Dimensions variable
Collection : The artist
For issues related to the theme of the Third Asia-Pacific Triennial contact Doug Hall or Caroline Turner at the Queensland Art Gallery.