David Breuer-Weil
"Adult Toys"
With these painted reliefs I wanted to make
a statement about adults and their toys. As
a result I have used bright, childlike colours
usually associated with children's toys but
applied them to adult toys.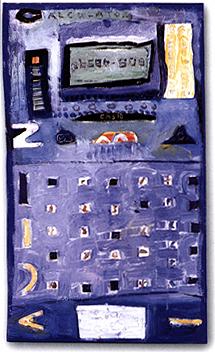 Calculator - Acrylic on wood, 40 x 70 cm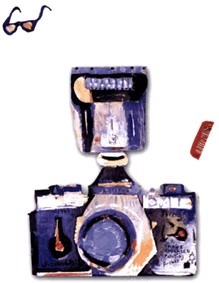 Olympus Camera - Acrylic on wood, 45 x 60 cm
David Breuer-Weil
Born: London, 1965
Education:
1985-88 Clare College, Cambridge B.A. English
Literature
1984-85 Central St. Martin's School of Art,
Foundation Course
1989 Joined Sotheby's as bursary student.
1990 Appointed expert in Impressionist and Modern Art.
1991-94 Head of Paintings and Judaica at Sotheby's Tel-Aviv. 1995 became deputy director Impressionist and Modem Art Department, Sotheby's, London.
1998 Left Sotheby's and now working as consultant expert for de Pury & Luxembourg Art, Geneva in Impressionist, Modern and Contemporary Art whilst pursuing career as painter and sculptor. Regularly gives lectures on art.
Selected one-person exhibitions:
Boundary Gallery, London, Paintings and Drawings, September, 1999, to coincide with publication of John Russell Taylor's book on drawings by the artist (JRT is one of the art critics for the times Newspaper, London) Engel Gallery, Tel-Aviv, Painted Reliefs, July, 1999
Coningsby Gallery, Abstract Landscapes, London, 1998
Boundary Gallery' London, 1996 The Gate, London, 1995
Boundary Gallery London, 1994 (with Kate Green) Engel Gallery, Tel-Aviv, 1993
Plantation House, London, 1992 (under the
auspices of British Land PLC)
Sotheby's, London, Large Figurations, Summer
1991
Clare College, Cambridge, 1986
Central Library Cambridge, 1985
Selected mixed exhibitions:
Ben Uri Gallery, London (1985,86,87,88,90,94)
Boundary Gallery, London (the Colour Blue)
Engel Gallery, Tel-Aviv 1994
Art-Expo, New York, 1994
Sotheby's Artists, London, 1994
Mizel Museum, Colorado, 1995
Art95, Business Design Centre, London
Art Multiple, Dusseldorf, 1995
Sotheby's Artists, New York, 1995
Engel Gallery, Tel-Aviv" 1996
Art96, Business Design Centre, London
Art 97,98 & 99, Business Design Centre, London
London Art House, May, 1999



[ Galerie Engel ]